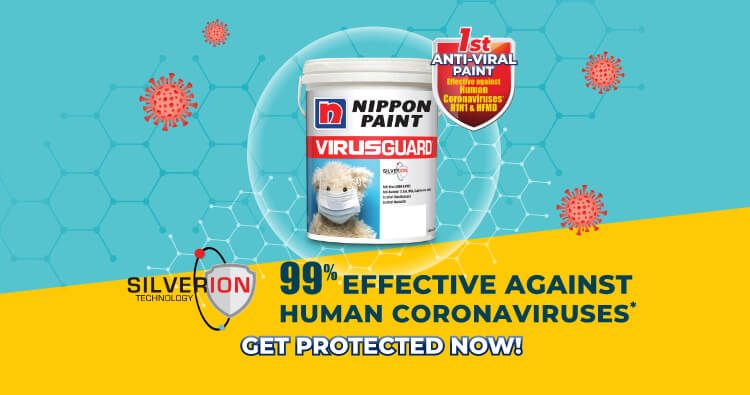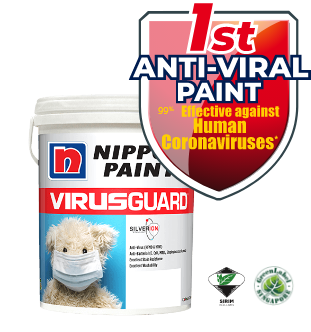 TRANSFORM ORDINARY WALLS INTO SAFE WALLS WITH
NIPPON PAINT VIRUSGUARD.
As the Coatings Expert, we strive to continuously champion indoor safety and wellness to keep everyone safe. Nippon Paint VirusGuard is an anti-viral
1
and anti-bacterial
2
paint, made specifically to ensure that our walls are protected and safe to touch. It is formulated with Silver Ion Technology, which is scientifically proven to resist the growth of up to 99% of harmful viruses
1
and bacteria
2
on the painted surface.
Effective against viruses -99% Human Coronaviruses, 99% HINI (Swine Flu) and 99% HFMD (Coxsackievirus A16)
Effective against bacteria -99% E. coli, MRSA, Staphylococcus Aureus
VIRUSES AND BACTERIA SPREAD TO THE WALLS DURING OUR DAILY ACTIVITIES.


THE TECHNOLOGY BEHIND
NIPPON PAINT VIRUSGUARD
Silver Ion is one of the world's oldest natural antimicrobials.
It resists the growth of micro-organisms like viruses, bacteria, mold and fungi.
It's absolutely safe for humans and pets!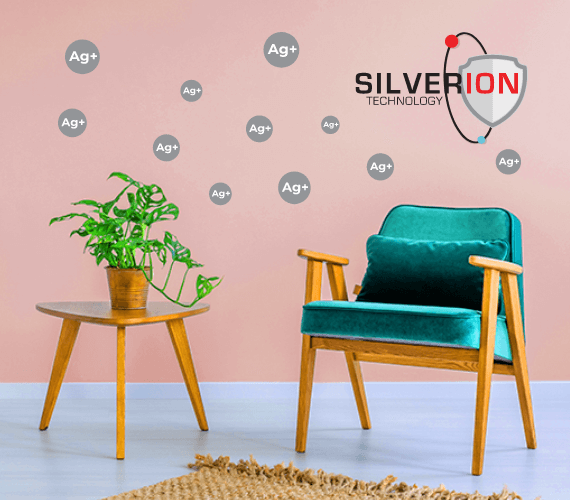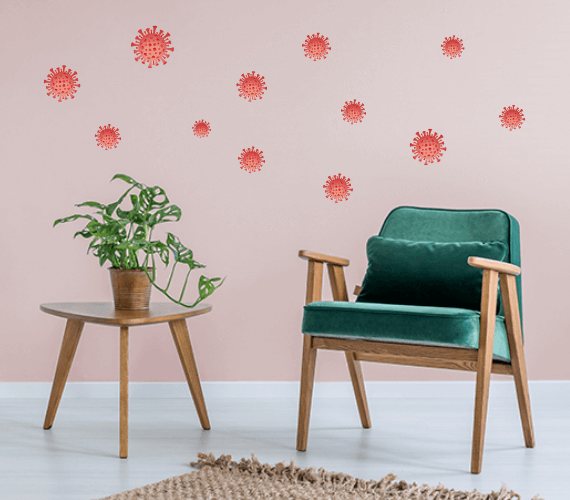 Which viruses and bacteria does it destroy?
Effective against:
HUMAN CORONAVIRUSES
e.g. Strain 229E
Effective against:
INFLUENZA
e.g. H1N1 (Swine Flu)
Effective against:
HAND, FOOT AND MOUTH DISEASE
e.g. HFMD
(Coxsackievirus A16)
Effective against:
BACTERIA
e.g. E. coli, MRSA,
Staphylococcus Aureus
*Studies from Analytical Lab Group (ALG) and ATS Laboratories
HOW DOES SILVER ION TECHNOLOGY WORK?
Destroy the cell membrane of viruses and bacteria, making them non-functional.
STEP 2: STOPS REPRODUCTION
Stops viruses and bacteria from reproducing
and multiplying.
Slows down the metabolism and eventually causes the death of viruses and bacteria.
KEY FEATURES
Anti-viral
(Human Coronavirus,
HFMD, H1N1)

Anti-bacterial
(E.Coli, MRSA,
Staphylococcus Aureus)
Superior
Washability
Mold and Fungus
Resistance
Long Lasting
Colour
Ultra-low VOC and
Low Odour
Scrub
Resistance
Green Choice
(Environmentally friendly)
Easy & Hassle-Free
Maintanence
RECOMMENDED AREAS TO PAINT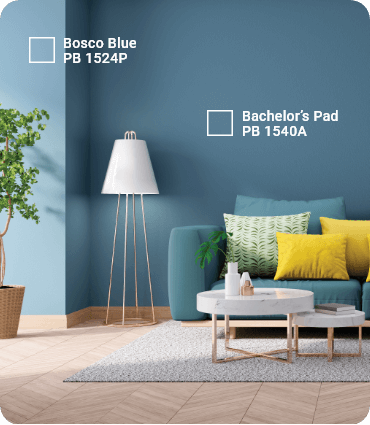 RESIDENCES
Keep your family well and healthy by ensuring that the largest surfaces at home – walls – are painted to be safe from harmful viruses and bacteria.
Bedroom, Living Room, Dining Area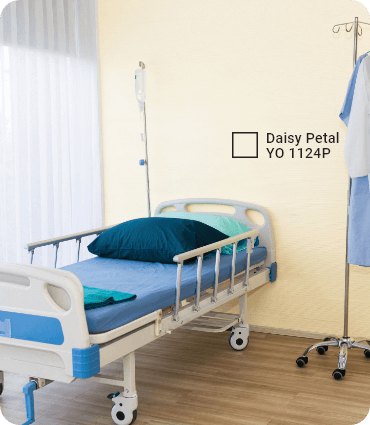 HEALTH INSTITUTIONS
Safety in health institutions is critical because viruses and bacteria can survive on all surfaces. Don't endanger at-risk individuals there: paint the walls for protection.
Clinics, Hospitals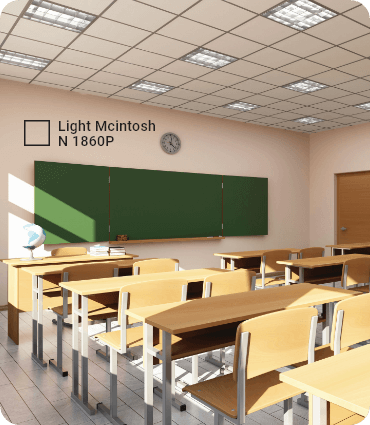 EDUCATIONAL CENTRES
Provide safety to staff, students and parents in spaces for learning. Protect them by painting the walls to resist health-endangering viruses and bacteria.
Classrooms, Multi-Purpose Halls, Canteens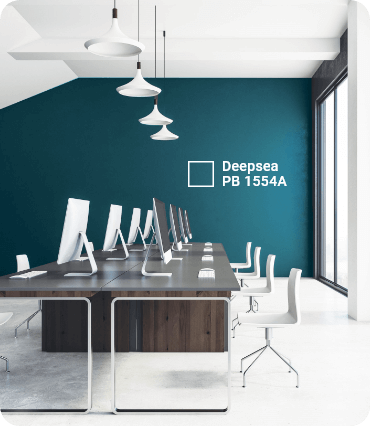 COMMERCIAL AREAS
Create safe, worry-free environments for your employees and clients. Paint your walls to prevent harmful viruses and bacteria from spreading on them.
Restaurants, Offices, Meeting Rooms,
Pantries, Lobbies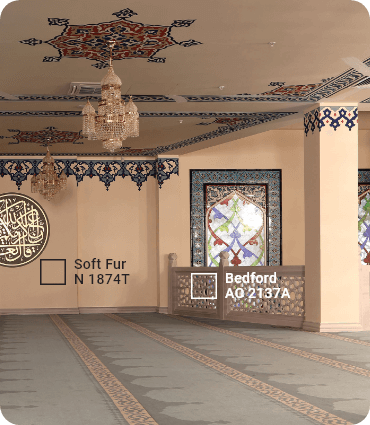 OTHERS
It's important to ensure that public spaces are safe for everyone. Provide protection by painting all public walls with anti-viral, anti-bacterial paint.
Aged Care Facilities, Prayer Rooms
Frequently asked questions (faQ

s

)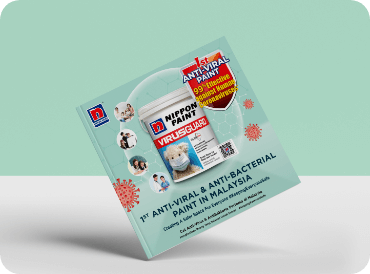 VirusGuard Booklet
Get more detailed information on Nippon Paint VirusGuard when you download this guidebook.
Download Booklet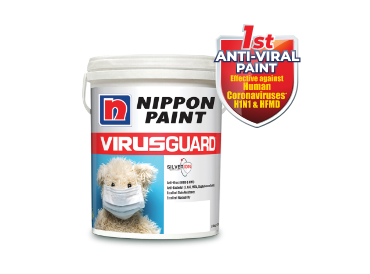 Technical Data Sheet
Grasp the benefits of Nippon Paint VirusGuard in greater detail.
Download TDS