Explore our new 290 long lasting colours with excellent weather durability.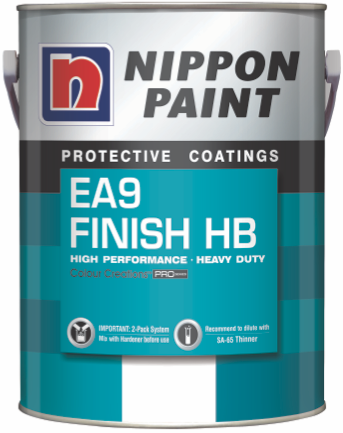 Download TSDS
EA9 Finish HB is a two-pack amine-adduct cured epoxy specially developed to achieve long-term corrosion protection for many types of surfaces i.e. aluminium, galvanising, steel and concrete. This feature combined with its wide range of resistance properties make EA9 Finish HB a durable, high performance and economical coating for immersion as well as non-immersion services.
EA9 Finish HB system has been extensively used for long-term corrosion protection lining of a storage tank for palm oil derivatives, vegetable oil, potable water etc.
Coating System
Application
Coating System
Tiles / Ceramic
Type
Product Name
No. of Coat(s)
Base Coat
EA9 Finish HB
1 coat
Top Coat
PU Recoatable Finish / EA4 Finish
2 coats
Masonry surfaces
Type
Product Name
No. of Coat(s)
Top Coat
EA9 Finish HB
2 - 3 coats
Steel surface
Type
Product Name
No. of Coat(s)
Sealer / Primer
EA9 Red Oxide Primer
1 coat
Top Coat
EA9 Finish HB
2 - 3 coats
Application Data
| | |
| --- | --- |
| Application | Brush, Roller, Compressed Air Spray, Airless Spray |
| Thinning | Dilute with maximum 5% of Nippon SA-65 Thinner |
| Touch Dry/ Hard Dry | 1 - 2 hours / 4 - 5 hours |
| | |
| --- | --- |
| Recoating Interval | Minimum 16 hours |
| No. of Coat(s) | 1 - 2 coats |
| Theoretical Coverage | 3.6 - 6.8 m² per liter per coat |